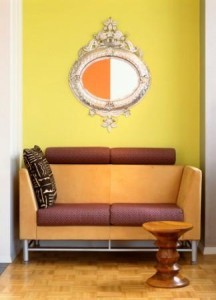 Is your home in tip top condition?
Preparing your house for sale should not cost you a huge amount. Remember, at the time of sale you're trying to maximise your return – not prove that you've got the most impressive mansion in the street.
Always remember, most people find it hard to imagine things completed – don't leave anything to the potential purchaser's mind. So, what can you do to improve your returns?
At the very least, make sure your property is tidy – inside and out. It may be worthwhile hiring professional cleaners or gardeners.
In the garden, ensure that all lawns are mowed. All hedges are trimmed. All edges are whipper-snipped. Tree branches and plants are pruned – remove all dead foliage.
Use as much colour as possible during spring and summer. Strategically placed planters – especially near front entrances always impress. If you have any bare garden walls, character can be added cheaply with the application of earthy-toned paint stains. This is especially the case with trellis fences.
Mulch any garden weeds, as well as ensuring that the garden itself is completely weed free.
Sweep, or use a blower around garden paths and the outside of the property.
If you have a pool, it must be immaculately clean.
Ensure all door surfaces are very clean – especially front doors and garage doors. Always keep the garage door shut during your selling campaign.
The property's interior must be clean and tidy and preferably clutter-free. Household objects you value may not be viewed as important by potential purchasers. It's a good idea to steam clean carpets and tiles as you embark on a selling campaign. Sounds obvious, but what a difference a spring clean can make. Carpet cleaning can help make a home look and even smell much more inviting, particularly if pets are present. And when windows sparkle the whole home seems to take on more vitality and life.
Ensure any cracked walls or other surfaces are repaired – purchasers are likely to over-emphasise the cost of any minor repairs that could be attended to cheaply by you.
Doors and windows should open easily and you shouldn't have any creaking floorboards – and any leaky taps are out of the question.
During open homes, the power of the aroma cannot be under-emphasised. Potential buyers will always be impressed by open fires in winter and the fragrance of baking bread and brewing fresh coffee – as opposed to the remnants of last night's dinner!
Also, make sure the house is lit properly during any open home sessions – a dark home in winter is always likely to depress rather than impress purchasers. Sunlight is one of the most universal requirements when viewing homes so make sure you make the most of it. Tree pruning may provide a real bonus if it allows more light into your home.
Have an exterior house wash. This isn't expensive and can really give a lift to paint work, and use a soft wash rather than water blasting unless the paint work is very robust… and don't forget the fence, gate, paths and decks.
Pets should be kept well out of the way during open homes. You may cherish your pet but some people will not come into a house that has a dog running loose.
Ten qualities to look for in an agent
Good agents can give you a realistic guide on what you can expect for your property. You probably have a sale figure in mind; however, your agent should honestly inform you how realistic this figure might be based on market conditions and local supply and demand.
The agent you choose should have excellent advice regarding how best to promote your property for sale. Their knowledge local communication channels and how to obtain greatest coverage for your property should be unparalleled in the area.
Your agent should be able to present your property in the best possible light to potential purchasers and also be able to advise you on the best presentation techniques.
The agent should have excellent negotiating skills as a basic pre-requisite.
Never forget that the agent always works for you as the seller – not any prospective buyers.
Also, a good agent will advise you what to do, rather than tell you what to do.
Keep the attributes of reputation, experience and specialisation at the forefront when considering your agent options.
Part time agents tend to not be a good option. Full time agents will always be more attentive.
A good agent always has the highest ethical standards.
A good agent will assist with contract exchanges and advise regarding any potential legal complications.